Natural Dyes
National Centre for Jute Diversification (NCJD) with its series of initiatives is to support the design needs with its network of industries, entrepreneurs, and NGOs using jute and other fibres as raw material by creating a strong interface of design with jute manufacturing and marketing through design innovation and to create wider awareness of jute as a future fibre as part of the market-led Design Innovation strategy for potential entrepreneurs keen to explore new products ideas collaborated with National Institute of Design (NID) has to provide the following inputs :
Understanding of natural colors
Preparation of color palate, natural dyes
Introduction to various resists dyeing techniques such as Tie, Clamp, Stitch
Block printing with natural dyes on jute fabric
New range of product developments
The raw jutes are blended nicely with cotton, viscose, silk etc. that gives a new look to the jute fabrics. It looks more elegant as well as sophisticated. There are enormous possibilities to visualize modern lifestyle accessories, home furnishing, decorative items and personal products. Jute is natural fibre. In India there is huge industry that is working with this natural fibre The uses of natural dye is another strength. It could make a vast range of product diversification that comes under Eco-Friendly Jute Products. Printing of jute fabrics with eco-friendly dyes and handmade new range of products will definitely open a new door to the domestic as well as international standard.
Dyeing Literature
Dyeing comes to us with a 6000 year history of experimentation and refinement. All fibre dyes were made of natural materials until 1856, and ancient writers record that there were at one time nearly a thousand different know sources of dyestuff. Commercial exchange of dye products was an important part of the early world economy.
It wasn't until an accidental discovery in 1856-yielded mauveine that the chemical dye industry began. By 1900 a synthesized indigo was in production. The natural dye markets became a thing of the past and commercial dyeing turned to synthesized chemicals, with natural dyeing becoming a tradition maintained by only a few.
Much of the pleasure in natural dyeing comes from the exploration of out own neighborhood; finding fibre colors in plants nearby is a pleasure that expands your appreciation of the life around you.
Natural Dye
Nature has bestowed on us a wide spectrum of natural colors. Indians had perfected the art of natural dyeing from time immemorial though the last century has seen its decline, with the advent of synthetic dyes. General difficulty in maintaining proper standardization and reproducibility of shades also contributed to a large extent to the decline of natural dyes. In fact natural dyeing had developed as a folk art. However, in recent times dyeing technique is interpreted on sound scientific principles and the interaction between the dye and the dyed material is well understood with the recent trend of higher preferences for natural dyes, fuelled by increased public awareness about environmental issues and actions like the German ban on use of some synthetic dyes. The colors obtained from natural dyes have a harmony, - a depth that is missing in synthetic ones. Dyes are materials that give color to other substances, such as yarn, food, paper and cloth. Although synthetic dyeing methods have taken over in the last century, dyeing materials are still abound in the natural world today. Some weeds products light tan or yellow coloring, whereas others may produce beautiful shades that become faded with exposure to light to take on even greater beauty in the fading. Geraniums, dahlias, mulberries are all popular dying plants, while the traditional plants such as wood are also worth cultivating. There are so many plants, which produce multiple dyes, imbue the fibres with a unique blue.
Mordants are chemicals that help improve the depth of color and the fastness of the dye. The most commonly used mordant are the metallic salts of alum, chrome, iron and tin. Natural dyes can be derived from almost anything .. plants, minerals and even some insects. Natural dyeing materials are mainly plants, with the exception of certain insects and snails, which make reds and grays. Red is a difficult color to gain naturally, as most red materials are irons, which rusts to dull brown when heated. Most natural dye colors are found in the roots, bark, leaves, flowers, skins and shells of plants. Some plants may have more than one color dependent upon which part of the plant one uses. Dyes don't combine directly with the substance they are intended to color. A mordant is required to make the color hold. Mordants are materials that cause the natural dyes to bond chemically with the cloth, preventing the color from either fading with exposure to light or washing out.
The dyes do not require mordants if natural filament like jute, yarn or cloth (white or natural tan or gray), are to be dyed, although unmordanted dyes are not fast to washing. Overtime, with exposure to light and soapy water, these colors fade, but natural dyes fade more harmoniously than synthetic ones. Alum as a mordant would give better end results in terms of the fastness of the dye. Natural dyes work best with natural fibres such as linen, wool, silk and others such as jute, ramie and sisal with wool being by far the easiest to take the dyes, followed by cotton, linen, silk and then the more coarse fibers such as sisal and jute. The darkness of color will vary as dyeing is not an exact science but a process of experimentation.
Color

Botanical name

Parts used

Mordant

Blue Dyes

Indigo

Indigodera tinctoria

Leaves

-

Wood

Isatis tinctoria

Leaves

-

Suntberry

Acacia nilotica

Seed pods

-

Pivet

Ligustrum vulgare

Mature berries after frost

Alum and Iron

Water Lily

Nymphaea alba

Rhizomes

Iron and acid

Black Dyes

Lac

Coccus lacca (insect)

Twigs inhabited

Ferrous Sulphate

Alder

Alnus glutinosa

Bark

Ferrous Sulphate

Rofblamala

Loranthus pentapetalus

Leaves

Ferrous Sulphate

Custards apple

Anona reticulata

Fruit

---

Harda

Terminalia chebula

Fruit

Ferrous Sulphate

Brown Dyes

Caesalpina

Caesalpinata sappan

Wood chips

Ferrous Sulphate

Bougainvillea

Bougainvillea glabra

Flower

Ferrous Sulphate + acid/neutral

Balsam

Impatiens balsamina

Flower

Alum

Marigold

Tagetes species

Flower

Chrome

Black berries

Rubes fructicousus

Berries

Iron

Green Dyes

Tulsi

Ocimum sanctum

Leaves

Ferrous Sulphate

Bougainvillea

Bougainvillea glabra

Flower

Alum + Base and Ferrous Sulphate + Acid

Canna

Flower

Alum and Ferrous

Lily

Convallaria majalis

Leaves and stalk

Ferrous Sulphate

Nettles

Urtica diocia

Leaves

Alum

Orange/ PeachDyes

Bougainvillea

Bougainvillea glabra

Flower

Stannous chloride + Acid : Alum + base

Balsam

Impartiens balsamina

Flower

Tin

Dahlia

Dhalia Species

Flower

Alum/chrome

Annatto

Bixa orellana

Seeds

---

Red Dyes

Safflower

Carthamus tinctorious

Flower

---

Caesalpina

Caesalpinia sappan

Wood chips

Alum

Maddar

Rubia tinctorium

Wood

Alum

Lac

Coccus lacca (insect)

Twings inhabited by these insects

Stannic chloride

Yellow Dyes

Bougainvillea

Bougainvillea glabra

Flower

Tin

Golden rod

Solidago grandis

Flower

Alum

Teak

Tectona grandis

flower

Alum

Marigold

Tagetes species

Flower

Chrome

Parijata

Nyetanthesar

Flower

Chrome
Natural dyes are substantive, requiring a mordant to fix to the fabric, and prevent the color from either fading with exposure to light or washing out. These compounds bind the natural dyes to the fabric. They are of three types:-
Metallic mordants
Metal salts of aluminium, chromium, iron, copper and tin are used.
Tannins
Metal salts of aluminium, chromium, iron, copper and tin are used.
Myrobalan and Sumach are the commonly used tannins employed as mordants in the dyeing of textile fibres.
Oil mordants
Oil mordants are used mainly in the dyeing of turkey red color from maddar. The main function of the oil mordant is to form a complex with alum used as maddar. The sulfonated oils, which possess better metal binding capacity than the natural oils due to the presence of sulfonic acid group, bind to metal ions forming a complex with the dye to give superior fastness and hue.
LIMITATIONS OF NATURAL DYES
Tedious extraction of coloring component from the raw material, low color value and long dyeing time push the cost of dyeing with natural dyes considerably higher than with synthetic dyes. In case of sappan wood, prolonged exposure to air converts the colorant brasiline to brasilein, causing a color change from red to brown. To overcome this drawback sonicator, is used. Some of the natural dyes are fugitive and need a mordant for the enhancement of their fastness properties. Some of the metallic mordants are hazardous.
BONDING
Natural dyes work best with natural fibres such as cotton, linen, wool, silk, jute, ramie and sisal. Among these, wool takes up dyes most easily followed by cotton, linen, silk and then the coarse fibres such as sisal and jute. Nearly all of them require some sort of a mordant. The trick is to choose the right dye from the right source that gives not only beautiful tones, but colorfast shades as well. Some of the natural dyes are fugitive and need a mordant for the enhancement of their fastness properties.
IMPROVING THE QUALITY OF NATURAL DYES
Poor light fastness of some of the natural dyes is attributable to photooxidation of the chromophore. Such photooxidation can be prevented/minimised by forming complex of the dye with transition metal. Washing of fastness of natural dyes can be improved by treatment with eco-friendly mordants such as alum, stannic chloride, stannous chloride and ferrous sulphate. Treatment with metal salts alters the light absorption characteristics of tannins in addition to making them insoluble in water with the fabric acquiring washing fastness. Natural dyeing of jute received attention following the shifting of customer preference the world over to pure cotton or jute for dress materials in place of synthetic cloth, in view of growing environmental concern.
EXISTING SCENARIO OF THE CRAFT
India has a rich tradition of natural dyes. The vegetable or the natural dyes are being extensively used. Both in Dyeing and Printing in a different craft pocket of India. The use of vegetable dyes has been further encouraged by the current market trend, nationally and internationally. Natural Dyeing has a great potential of substantial growth and development and has tremendous scope of exploration.
MATERIALS
Dyeing with natural colors is an age-old art wherein dyers originally used it for dyeing garment and other personal used articles of the village community. Today the natural dyes are used equally in both block as well as hand-printing. And dyeing is creating a wider scope with an upcoming demand for natural products. Hence natural dyes are extensively used in wide variety of products.
AVAILABLE SKILLS AND NEED FOR IMPROVEMENT
Dyeing with natural colors offers great scope and need further improvement and up gradation in skill and quality of producers. As the art of using natural dyes is expertise with practice and research. The raw materials ingredients for the natural dyes are available in abundance. These dyes are extracts from different parts of the plants like root, stem, bark, leaves or flowers. Some Plants parts are used fresh, while in others dye containing part of the plant collected was crudely crushed and fabric was dyed in the different depths.
THE COMMON NATURAL DYES AVAILABLE ARE :
Indigo Blue : available from indigo cake real indigo always floats on water. It gives very good discharge effect.
Myrobalam Powder : it is also used as mordant "Anar Ka Chhilka" is the substitute of Myrobalam as it is too costly.
Mangistha Sticks : we get from the stem. Nodes on the stem yield maximum color. It gives pink color, Mangistha is synthesized and converted into alizarin.
Ratan Jog : The stem of the plant is used. Loose barks of stem give maximum color. This has a good affinity for animal fibre. It has a very good fastener to light, wash, bleach etc. it gives light Grey to dark black color.
Catechu : Brown color and its shades are produced with this.
Industrial Catechu : It is used in dyeing in industries. It gives proper brown color.
Turmeric Powder : It gives yellow color and it's shades.
Marigold Flower : It gives very good yellow color. It liberates oxygen and acts as air purifiers
To make the fabric more receptive to dye and for fast absorption of color, common non-toxic minerals are used. These minerals are known as mordants in natural dye process.
THE COMMON MINERAL DYES OR MORDANTS AVAILABLE ARE :
Alum : many different kinds of alum are available. Aluminum Potassium Sulphate is commonly used. It makes fabrics very receptive; it can be used upto 5% of the weight of fabric.
Ferrous Sulphate : Known as green vitriol. It gives depth and darkness to the dye. It can be used only upto 1%.
Copper Sulphate : Commonly known as blue vitriol. It is available in crystals and gives greenish tone of color, usually used only about 1%.
Potassium Dichromate : Known as chrome, is considered to be the best mordant for barks as it gives deep rich color. It cannot be used more than 1% as it banned by central government.
To standardize the shade and make the dyeing process easy the dye containing plant extracts are made in fine granule. Concentrated cakes or powder, few organizations have sprung up who manufacture these naturals dye powder/cakes at commercial scale.
TOOLS
Years ago mordants and dyeing were generally outdoor projects, but today, they can be easily done in the kitchen. A standard kitchen is being used for heating liquids. A gas flame is preferable because gradual heating is required to enable reach sudden heat charges during the process of dyeing. The most important equipments and natural ingredients are suitable pots for mordanting dyeing and washing process. Steel or Ceramics containers are considered to be ideal for this purpose. We need weighing balance with measures spoons and glass funnel. For stirring and lifting the yarns skins/fabrics from the water glass/steel rods are perfect as wooden ones stain. The paste and mordants are handy for crushing and grinding the dye. A few dish pans are necessary to mix and measure colors. Simple equipments like scissors, tumblers etc. would also be required.
Natural dyeing of yarn/fabric is basically done in three steps washing mordanting and dyeing.
Washing or Scouring : All the fibre/fabric to be dyed should be weighed dry and thoroughly cleaned before they are mordanted and dyed. Soft water gives better result in washing when washing cottons or Jute. Dissolve a natural soap in water of 1400C, wash the material thoroughly and repeat the process continuously to get rid of all the soap.
Mordanting and Dyeing : After the fabric has been scourged, it is now ready for the next process of mordanting and dyeing. The principal methods for using natural dyes are :
The materials are first boiled with a mordant and it is then dyed in a fresh dye bath.
The material dyed in the bath is then treated in a separate bath containing mordants.
The material is dyed in the same bath with a dye and mordant together.
The material is mordanted and then dyed in separate baths and again treated in the same bath.
Some dyes do not require the mordant and the material can be dyed directly.
To make fabrics more absorbent to dyes, Mordants are applied with following bases : Base I : Fabric to be dyed in Myrobalam Base II : Fabric to be dyed with Pomegranate and Turmeric Base III : Fabric to be dyed with Catechu Base IV : Double base Block Printing
Where it is color, it is alum based (Double base)
Where there is black color, it is Ferrous Sulphate (FeSO4)
Where it is yellow color, it is Myrobalam base (for fastness treat with alum)
RESIST DYEING METHODS :
Common methods for resists dyeing are :
Folding
Stitching
Wrapping
Tying etc.
Fold or Twist resist : By folding the fabric in appropriate forms the penetration of dye inside the folded portions of the fabric is prevented. In this case, the fabric portion itself act as a resisting media.
Stitch Resist : Also known as Tritik resist, in this typical form of group, small running stitches are made in the fabric, and drawn type and the end of the threads are knotted together. In a variation of this method, the fabric is folded and folds are stitched together.
Coil Resist : The fabric is rolled or coiled and tied at different places. Fabric woven from yarns, dyed in this fashion is known as IKAT.
Tie Resist : This is a special form of coil resist. The clothes are rolled partially or completely in a conical form and tied securely using threads. It is possible to block off, large areas in the fabric. Tie & Dye methods are often combined with stitch resist. This methods is also known as Bandhani or Plangi.
EXISTING MARKET SCOPE
With a demand of BACK TO NATURE the natural dyed products are having immense marketing exposures. Presently it finds its way and is preferred at all upmarket shops dealing in textiles. The natural dyed and printed furnishing and apparels are also finding greater acceptance in Export Market.
TOOLS & EQUIPMENTS :
Natural dyeing has made its journey a long way over the past hundreds of years. In earlier times, this was generally the out door activity but nowadays it can be dine in kitchen. The only thing is that everything should be ready with a standard kitchen. A gas burner is preferable rather than any other heating source because gradual heating is required. The main equipments which are necessary are as follows :
Vessels or containers for boiling the water and preparing the dye (non reactive vessel i.e. stainless steel or copper are preferred)
Plastic tubs or bigger sized bowls are used for storing the dye bath and mordant baths.
Plastic mugs for pouring the dye bath and collecting from the store bath.
Strainer for straining
Gloves for safely of the hands
Heights and weighing balance for measuring the dye as per requirements.
Mortar and pestle to pound the minerals/mordants
All the natural dyes and mordants.
TOOLS
2-3 sharpeners (2 Fixed and 1 adjustable)
5-6 clamps
Nut, bolts and washers for tightening the clamps
2-3 pairs of scissors for cutting
1-2 cutters
Cycle rubber tube cutting for resisting
Polyethylene/Plastic for packing and registering
Needless for Stitching
Twine thread for Stitching
ECO-FRIENDLY TESTING
After the natural dyeing process is over it is time for testing the fabric. The testing of the fabric is done to test the fastness of color. The fastness of the color is tested in three different ways :
Washing fastness
Dyeing fastness
Rubbing fastness
Washing Fastness : To test the washing fastness there are again three different stages. First the dyed fabric is washed with water & soap. Secondly the dyed fabric is washed with soap and soda ash in boiling condition. Then the third is to mix-up soap, soda and boil it in 0.1% of Sodium Hydrochloride. If the color stays then it is OK to pass the test.
Dyeing Fastness : The dyed fabric is put in the sunlight for 48 hours to test the light fastness of the fabric and is graded from 1-8 according the graded difference. 1 is poor and 8 is excellent.
Rubbing Fastness : To test the rubbing fastness the instrument used is called Orcho Meter. The values are graded from 1-5. 1 being the poor and 5 being the best. 2,3 are the medium grades. The dyed fabric is rubbed on a piece of white fabric for 6-8 times and is graded.
CLAMP RESISTS
While doing the clamp resist one should take proper care of folding. If there will be many folding, over lapping on each other, then the dye will not be permanent. So folding must be done as simple as possible and there should be some passage left for the dye to enter the targeted area. The folding fabric should have even thickness on the surface after folding, otherwise the clamp will be tight on one area than the other and uneven dyeing will result.
While making the Stitch resist design one should be careful about making the stitches. So long that it should not be more than 2-3 knots. One should make a proper knot in the starting end, and while drawing/pulling the threads one should make another, proper knot in the last end. So that the fabric will get nicely gathered and definite registration will come up.
DYEING COLOR APPLICATION
While dyeing, one should take good care of dipping the desired area of the fabric in the dye bath for around 10-15 minutes. The fabric should be squeezed inside the bath itself for proper permeation of the dye. After every dyeing the person is suggested to wash his hands otherwise he may contaminate the other dye bath which may leave patchy effect on the other dyed samples. The dye can be applied either by hands or with the helps of a container/mug.
OVER DYEING
Over dyeing should be done on a dyed piece either to hide some mistakes or to get the desired effect, when the already dyed fabric is completely dry or partially wet and by doing so one cane save the dye from being getting contaminated.
MORDANTING
The mordanting should be done immediately before and after the dyeing. The fabric should thoroughly be strained so that the extra dye/mordant is removed before the next process of mordanting/dyeing respectively.
RESISTING
While doing the clamp dyeing polythene sheets should be kept in between the contact area of the clamp and fabric. It helps in preventing the slipped dye in the wooden clamps from coming back on the fabric.Secondly, when the fabrics of many folds are tightened in between the two clamps the edge of the fabric does not get proper resist. So either, polythene or cycle rubber tube cutting is suggested to be used for resisting.
CLAMPING
While clamping the fabric, the two wooden blocks should be kept parallel to each other and both the nuts and bolts should be tightened equally. Equally does not mean after tightening one side the other side should be tightened; instead both sides should be tightened together simultaneously. This will help in pressing the fabric equally on both the sides.
OBSERVATIONS IN THE DYEING PROCESS
It was observed during the dying process that the colors or the dyes were appearing something else on the fabric and turned out to be something else when put when put into the mordant. The color changes dramatically.
The mordants are so active that they would create patches on the fabric, if not done carefully. Even a drop of the other mordants makes a big patch on the fabric and gives an unpleasant appearance and spoils the look. The colors are too fast to go. It can be bleached but it's very hard to get the same intensity or uniformity again. Even a slight temperature variation changes the shades of the dyes and its colors. So it is suggested that while dyeing one should use a clean hand and should wash one's hand after every dyeing/mordanting before going for other. It is preferable if one uses a pair of tight gloves (surgery gloves) at the time of dyeing and keeps washing them time-to-time.
Another thing worth nothing is that, it is better to mordant the fabric first and then dye it, otherwise the dye gets on to the fabric and when mordanted, later on it contaminates the mordant bath. Where as if the mordanting is done first, because it is just like a liquid juice it only makes the fabric receptive and helps in getting the dye fixed on to the fabric and on the other hand does not contaminate the dye bath.
The fabric dyed in the same dye bath gives different results when in different mordants' bath. Sometimes, double treated fabric, i.e. dyed in two different mordants' bath gives different results. When the fabrics are dipped in 50% concentration of dyes they look different (brightness and depth wise) and appear lighter.
CONCLUSION
India is the richest country to have the maximum of medicinal as well as dye giving plants and herbs. It is pity that we are able to use only 5% of the total resources, rest of 95% are remains unused and unknown. So it is suggested that India should have a natural dye research centre in coordination with Textile Industries.
PRODUCTS
Cushion Cover
Fabric : Cotton and Viscose blended, soft feel jute fabric
Color : Natural Dyes
General Size Cushion Cover (40cm X 40cm) square shape elegant look plus nicely finished tie & dye, block printing explored fabrics have been used
Duppatas made of natural dyes
Fabric : Cotton and Viscose blended, soft feel jute fabric.
Color : Natural Dyes
Intricate motifs have been created on normal size ladies duppatas. Experimenting different technique of tie & dye to explore the jute fabric along with fringes.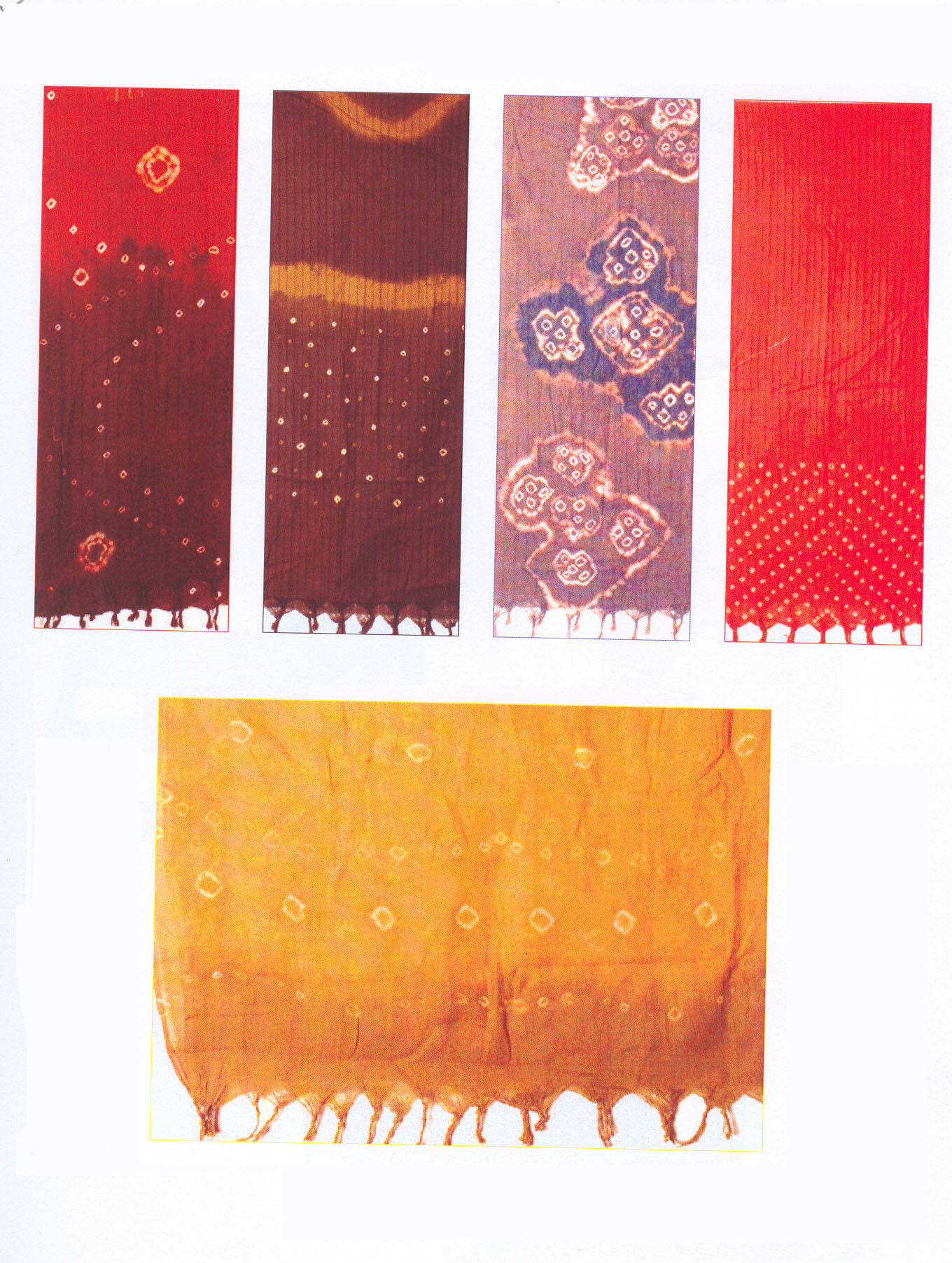 Different Styles of Bags
Fabric : Cotton and Viscose blended, soft feel jute fabric.
Color : Natural Dyes
Explore fabric turned into different style of body, shopping as well as general-purpose bags. Using accessories of wood so that those products should look harmonious. All the bags have interlining as well as strong reinforcement materials inside. Block printing and tie & dye fabrics are explored.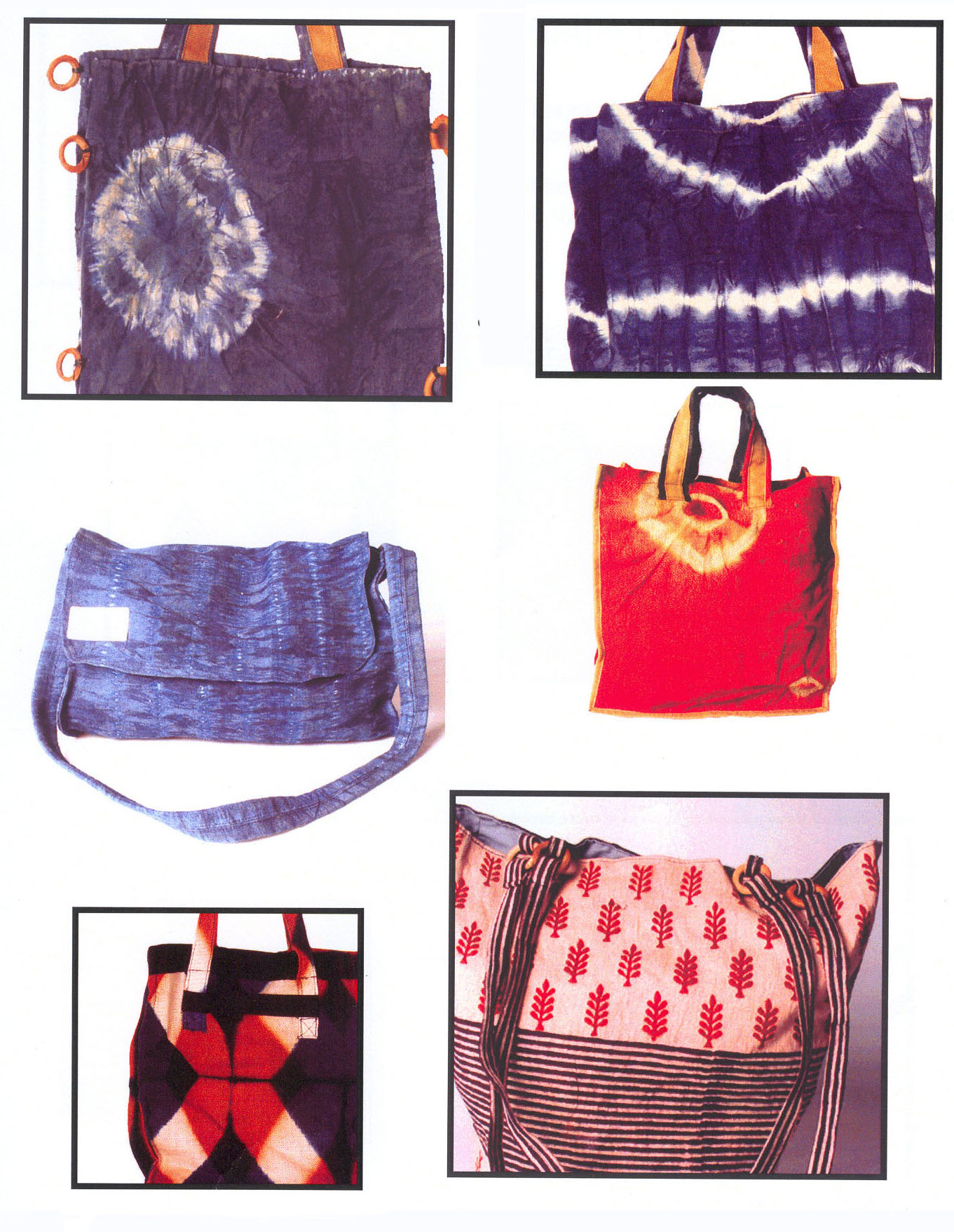 Table Clothes
Fabric : Cotton and Viscose blended, soft feel jute fabric.
Color : Natural Dyes
Normal size of table clothes made from explored fabrics from block printing as well as tie & dye techniques. While making table cloth the edge decoration were kept in mind.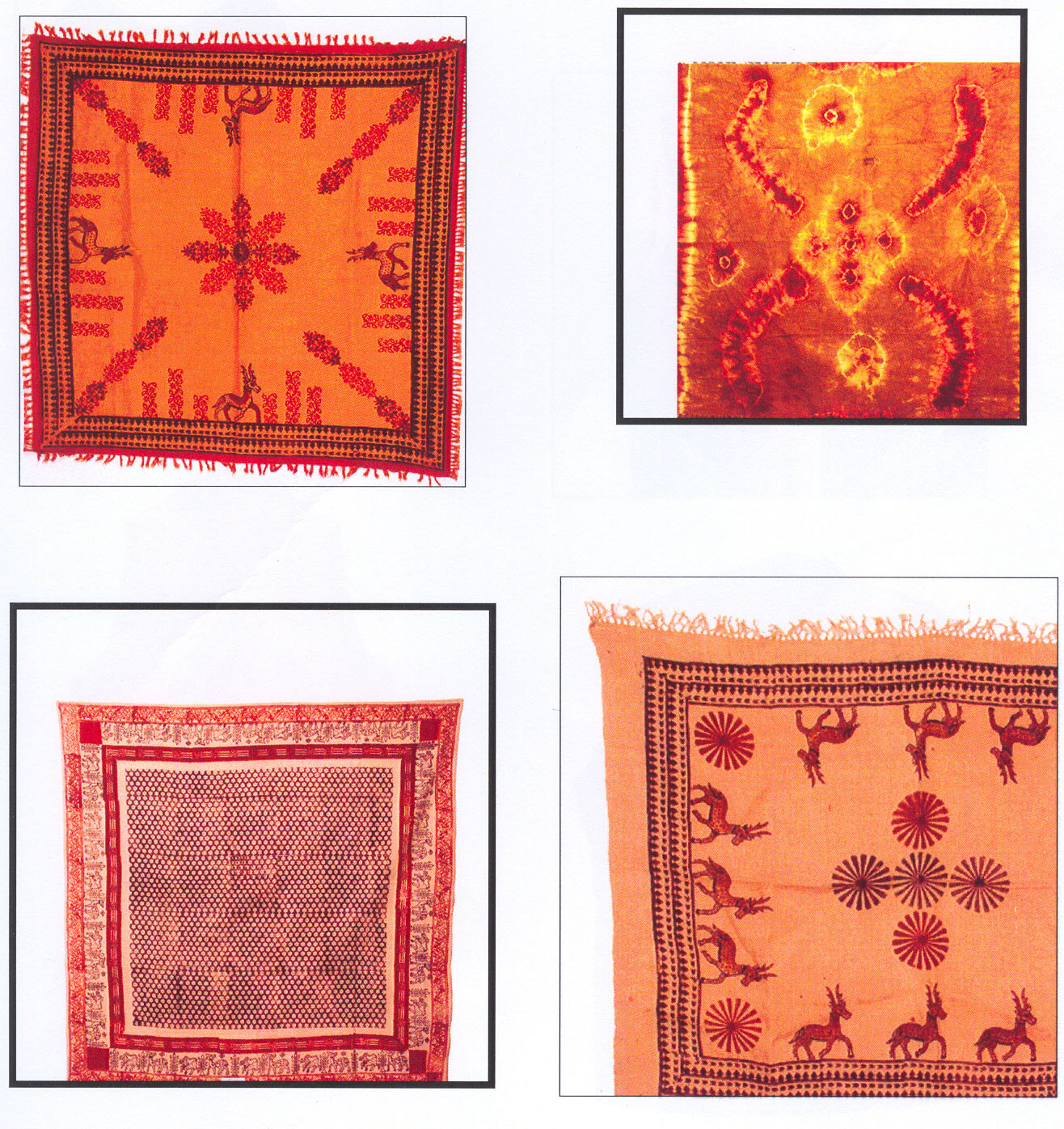 Apparel Products
Fabric : Cotton and Viscose blended, soft feel jute fabric.
Color : Natural Dyes
From the exploration jute fabrics created a range of apparel products for men and women. Craftsperson applied his/her own size, while stitching the garments explored fabric mostly from the technique of tie & dye and clamp dyes.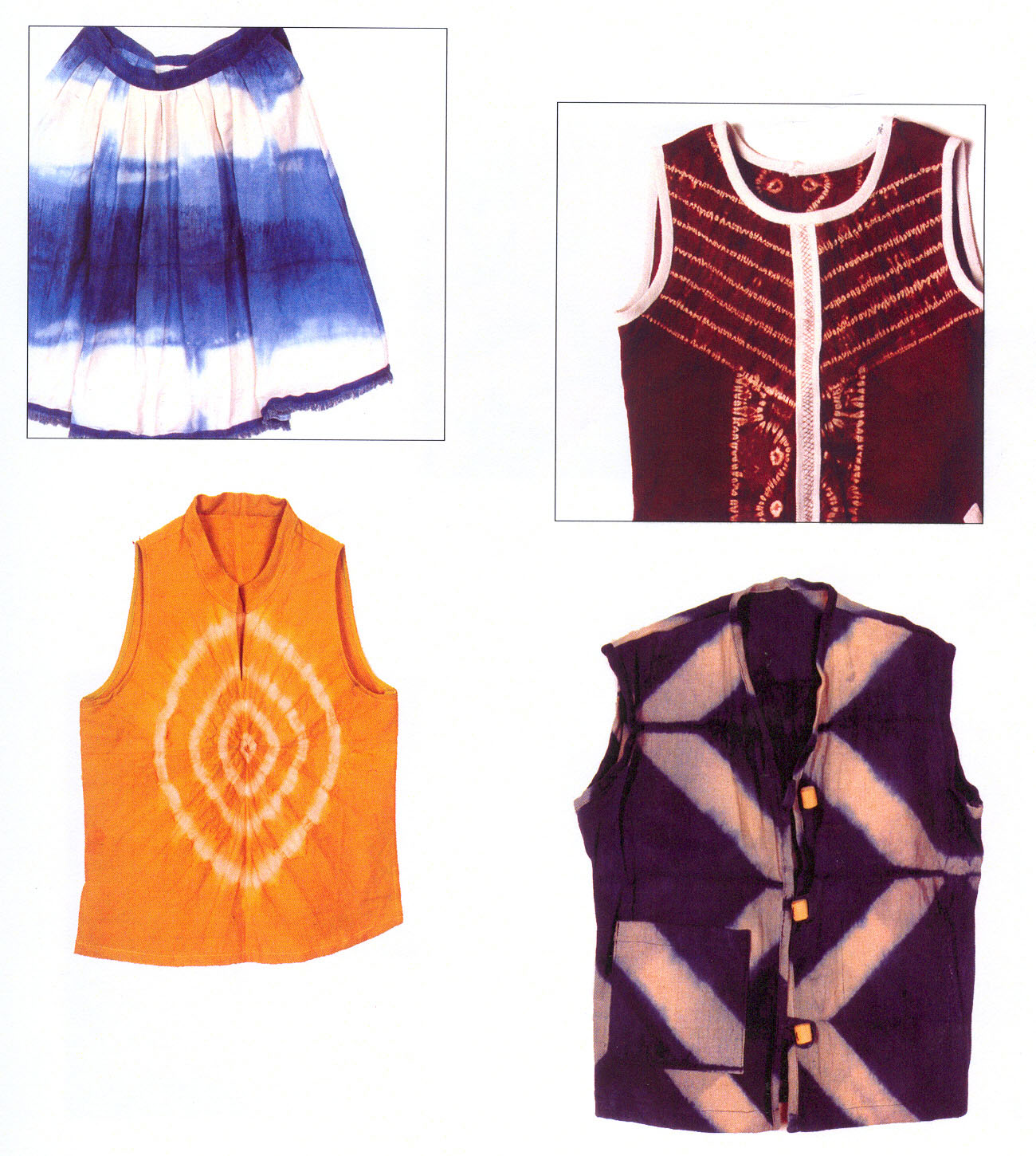 Hand Printed Jute fabrics
Fabric : Cotton and Viscose blended, soft feel jute fabric.
Color : Natural Dyes
Explored the fabric with brush, bottles and color directly by hand on the fabric to make different motifs of floral object, animals etc.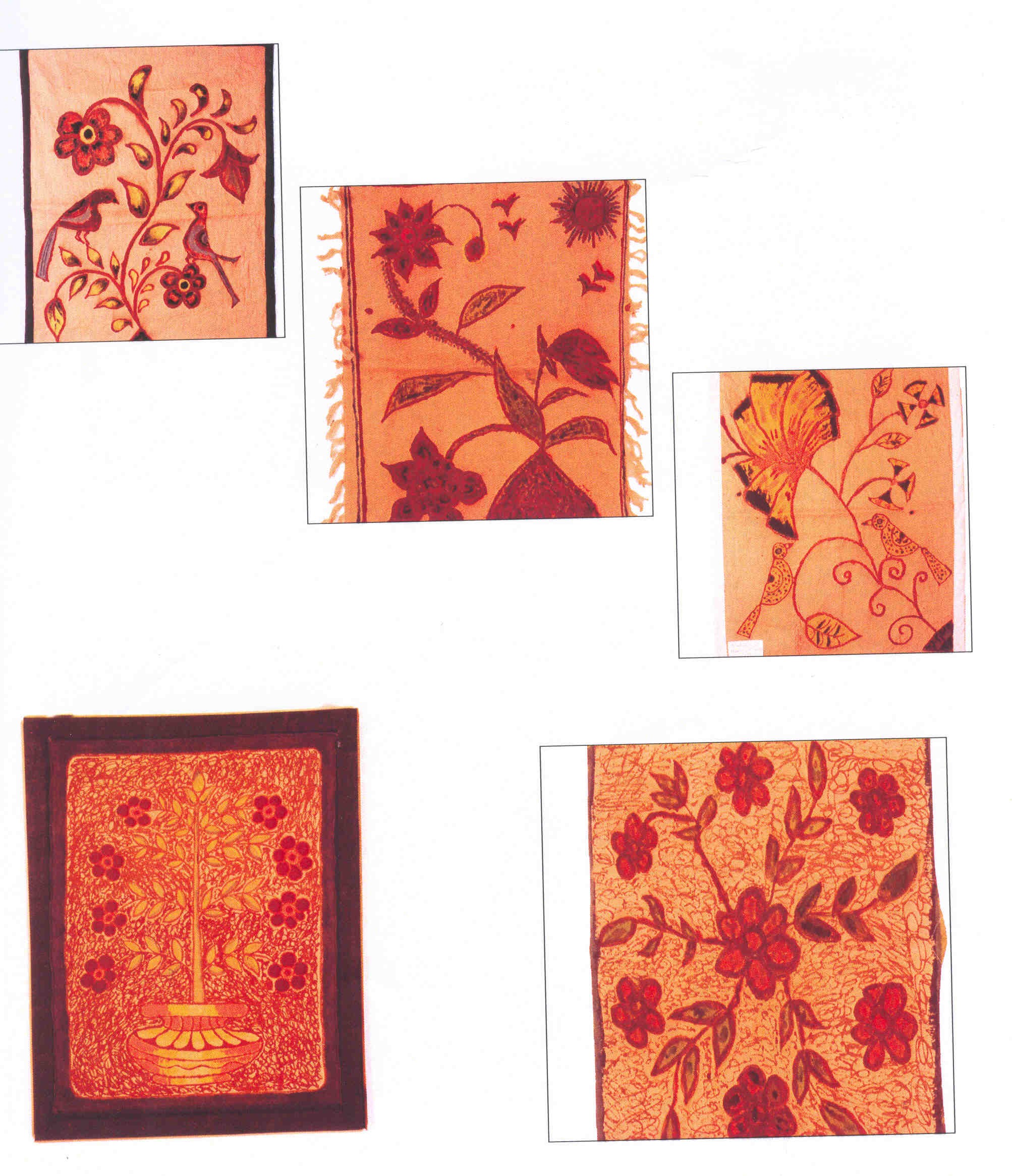 Sample of Block Printing
Fabric : Cotton and Viscose blended, soft feel jute fabric.
Color : Natural Dyes
Explored the fabric of certain size to implement the traditional block printing technique directly on fabric with single or multi color. Blocks have been used to create random or specific patterns on fabric to visualize the printed fabric for certain purpose.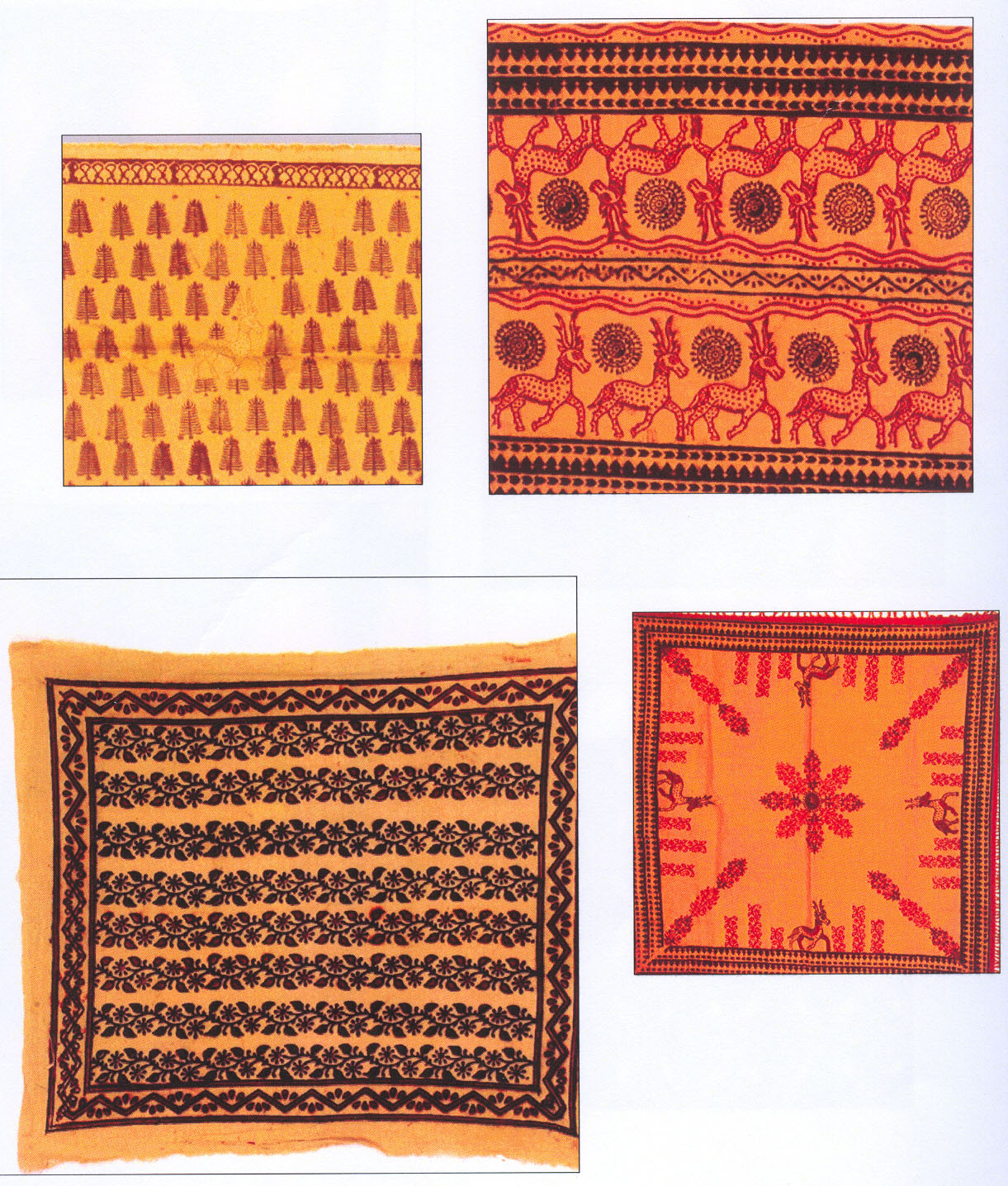 Sample of Clamp Dyes
Fabric : Cotton and Viscose blended, soft feel jute fabric.
Color : Natural Dyes
Exploration on 1 meter jute fabric. Different styles of Clamp dye techniques with single and two color.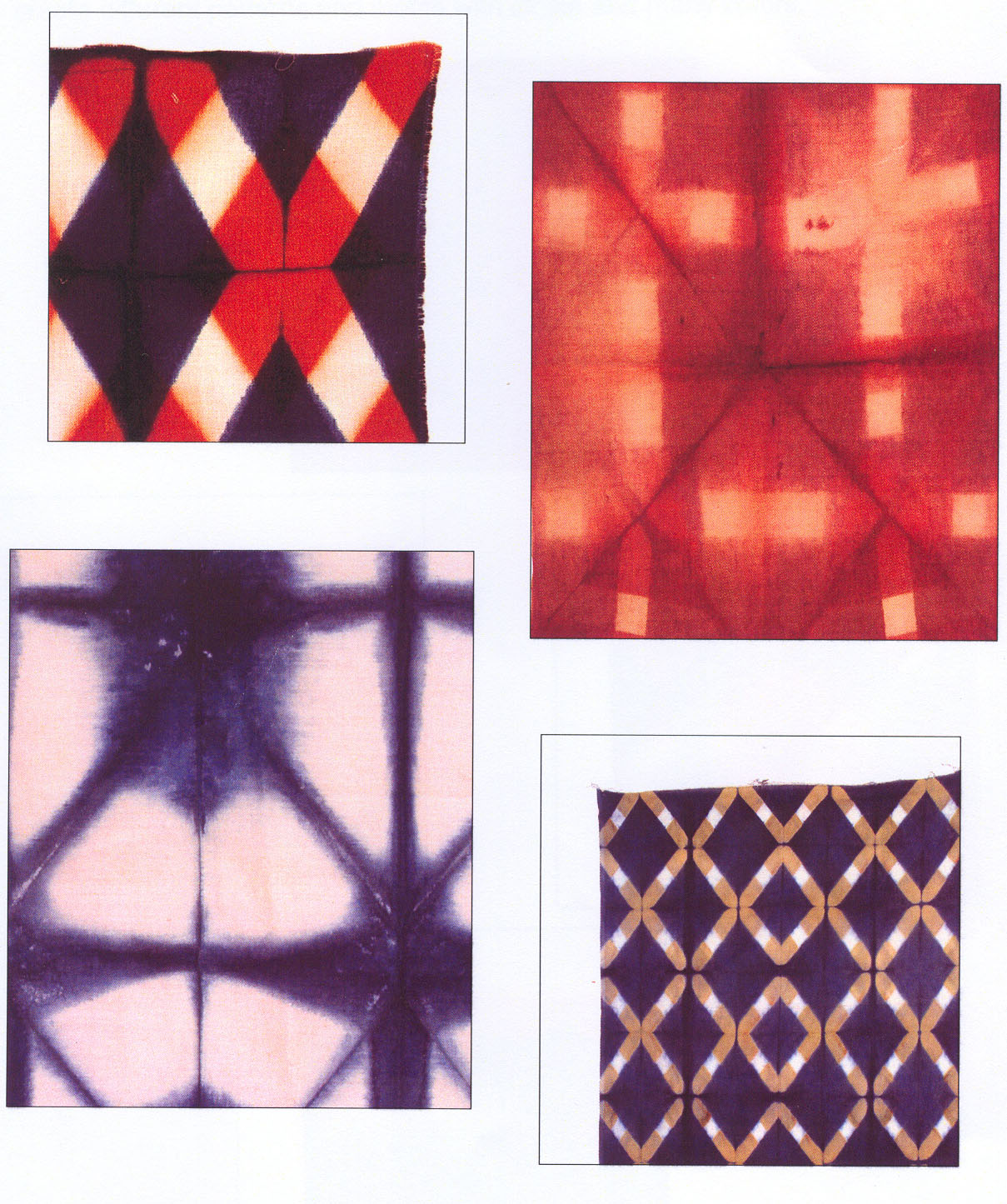 Sample of Tie & Dye
Fabric : Cotton and Viscose blended, soft feel jute fabric.
Color : Natural Dyes
Exploration on 1 meter jute fabric. Different styles of Tie & Dye experimented techniques to create different patterns and motifs with single and many colors.