International Market Information
Market Need Assessment and Supply Chain Analysis of Select Jute Product Groups in Select Markets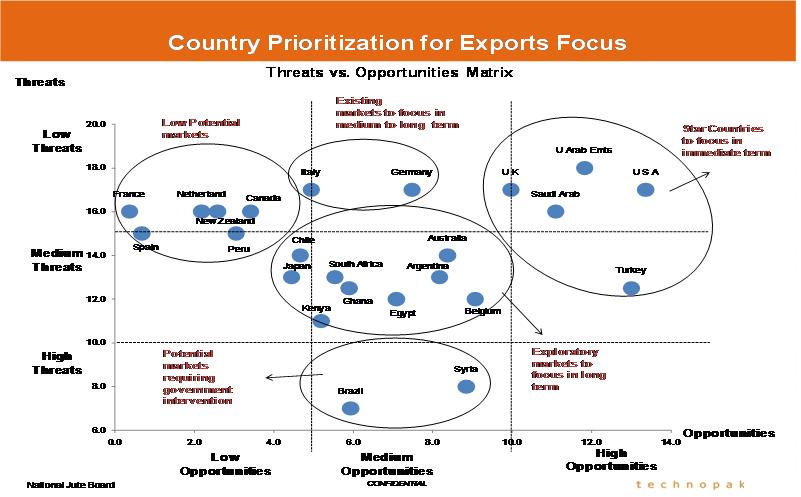 Study conducted by Technopack
Study conducted by Technopack
Major Issues of Buyers That Need To Be Addressed
High & unstable prices
Lack of marketing efforts / Lack of information about Indian suppliers / jute products
Poor service levels / Lack of relationship building by suppliers
Unsatisfactory or inconsistent quality
Limited designs & product variety
Technical limitations of jute usage
Supply chain is not streamlined resulting in high lead times and inefficiencies
High duty and taxes / Tariff and non tariff barriers in specific markets
Inaccessibility to jute related data (e.g. prices etc.)
Raw Material
Establish Raw material bank for exports
Raw material bank for raw jute should be setup for export requirements. The raw jute available from the Raw Material Bank would be at a competitive price, as raw jute will be procured in bulk quantity during the peak season. Most of the raw jute should be procured during the peak season (e.g. August to October) of availability of jute, from farmers/mukams sufficient to support exports for the entire year.
Exporters/manufacturers will be able to procure jute from the Raw Material Bank only for exports, on providing the purchase order from the client initially and the bill of lading once the shipment is done.
The raw material bank will help in removing fluctuation in jute prices and enable exporters to quote stable prices to their customers and also improve their production planning and forecasting. This will further increase the trust and reliability of Indian products among the customers.
Develop processing plants for raw jute at centralized location
NJB needs to promote Investments in technology driven processing plants for Raw Jute like Steam Explosion Technology as replacement of traditional retting methods. This will help in improved raw jute quality and increase productivity.
Other raw material related interventions
Irrigation facilities for farmers need to be improved
Use of high yield seeds need to be promoted further
Quality benchmarks need to be developed for raw jute for grading of various qualities produced.
Physical infrastructure for transporting raw jute from fields to the wholesale market needs to be improved
Production & Processes
Formation of PPP based "export body" for JDPs under NJB
An export body should be formed for promoting and managing exports of JDPs from India. The export body will be setup in Public Private Partnership mode to provide assistance only to exporters of Jute Diversified Products. The manufacturers who are willing to be apart of the Export body will get themselves empanelled to the same. This empanelment of the JDP manufacturers will enable in estimation of the supply capacity of the export body. The export body will market JDP's across the world and procure orders to be distributed among the empanelled suppliers though an orderly and unbiased mechanism. The export body will further manage delivery of the products to the end buyers. The export body will standardize the products that would be offered for sale based on the demand of the international market and the production capabilities of its members. The export body will also have a website displaying all the jute diversified products available along with specifications and price. An ERP system will be installed to regulate the entire supply chain. This will help in streamlining the supply chain for jute products and help in reducing lead times and improving efficiency. Economies of scale will be developed due to aggregation of orders by the export body and thereby help in reducing costs also. Companies should be incentivized to invest in the jute park through investment grants or export subsidies for exports from the jute park.
Other interventions
Product standardization
Currently a wide range of product specifications are being manufactured for various jute products. This results in lack of planning of production, resulting in manufacturing delays. Also lack of standard specifications makes it difficult to control quality standards of finished goods in all cases (except for exporters who are quality conscious and buyers who demand quality certifications)
Hence it is important to define specific standards for all jute products exported from India, so that manufacturers can plan their production according to the end product requirement.
Products should be classified with specific product names as per their fabric weight, construction, size etc. for each end usage.
Improving Quality Consistency and Innovation
Quality assurance – testing & certification
Product quality needs to be improved through adherence to quality standards and constant innovations.
Once standard specifications for product are established, certification for the same should be given by an independent certification agency (BIS/SGS) for all export shipments in order to maintain quality standards and assurance for buyers.
Product development
Incentive needs to be given to companies for investments in R&D.
An independent R&D centre should be established for outsourcing of R&D and product development by individual companies for respective products.
Design Infrastructure
Exclusive design cell for shopping bags and floor coverings should be established for export purpose. This will help companies in approaching buyers with their own designs rather than depending on their orders. Tie ups with foreign designers with relevant experience should be made so that individual companies can avail their services throughout the year as and when required.
Service level improvement
Need to Organize Stakeholder Education Program / Workshops at regular intervals, where in entrepreneurs or managerial staff in jute mills should be briefed on various methods of achieving service excellence by relevant experts.
Marketing
Open Marketing /liaison offices in key locations
For undertaking the required marketing activities there needs to be a dedicated marketing team of NJB for export market. Marketing / Liaison offices are recommended to be operated at the following locations: US, UK, UAE, Saudi Arabia, Turkey, Germany & Australia.
The key role of marketing / liaison offices to undertake various activities like promoting Indian jute products among buyers, providing Information on suppliers, products, prices etc.
Open warehouse for JDPs at select markets
Warehouses should be opened specifically for JDP's in key markets including US, UK, Germany, Australia along with marketing offices.
Warehouses will be used to stock standard products which can be finished in respective location and supplied to customers much faster. For e.g. shopping bags of standard sizes can be stocked in the warehouse and on receiving order from customer, the bags can be printed or customized according to customer requirements.
This will help in reducing long lead times faced by exporters.
Develop Online information portal
The marketing activities need to be supported by a well maintained and informative website. The current website of jute board can be used for the same. The website should be made user friendly with detailed information on Indian jute products, Supplier details, Market information, Prices of jute products, Other relevant services etc.
The website can also be designed to serve as an online buyer-seller meeting place.
Services like Online queries / enquiries etc. should be available for buyers and suppliers.
This will help in increasing awareness among the customers about Indian jute products and suppliers and make it easier for them to reach out to supplier and vice versa.
Organize India Jute week in Key markets
India jute weeks should be organized in key locations like US, UK, Germany, Italy, Australia. India jute week will involve promotion of jute bags / other products in key retail locations.
Tie ups with key retailers in each country (like Walmart, Target etc.) should be established so that space can be taken up in their retail stores for a week, where in jute bags etc. should be kept and jute be promoted as an eco-friendly product.
Organize Workshop series with Target groups
Workshops should be organized to educate buyers and key stakeholders across the key markets like US, UK, Germany, Italy, Turkey, Saudi Arabia, UAE, Australia.
These workshops will include sessions on educating the buyers about new jute products and benefits of specific jute products for various applications.
Organize Focused Road shows (for JDPs)
Road shows can be organized in key consuming markets for JDPs like US, UK, Germany, Italy, Australia.
These road shows will include marketing events in key locations like major retail locations, schools and colleges etc.
The road shows will help in increasing awareness of jute amongst consumers (especially young consumers like students etc.)
Other marketing activities
Tie up with environment support groups

Promotional tie ups should be established with environment protection groups like earth hour etc. to promote jute products along with their promotional campaigns.

Tie up and sales through association of wholesalers of promotional products

Tie ups should also be established with association of promotional products like PPAI(US), Promota (Promotional Merchandise Trade Association) (UK), BPMA(British Promotional Merchandise Association) (UK) and Advertising Specialty Institute (US) etc. These associations help in promoting promotional products like jute bags etc. key distributors / wholesalers should be targeted like Quality Logo Products, Staples Promo Products etc.

Participation in focused trade fairs / events.

Indian products should be showcased through product specific trade fairs held in the top priority and medium term markets like:

Floor Coverings: Domotex, etc.
Geotextiles: IFAI (Industrial Fabric Association International) Expo, IECA (International Erosion Control Association) Road shows and conferences etc.
Shopping bags: promotion products trade shows like New York International Gift Fair, ASI Show, Promota Show, House & Gift Fair (Brazil) etc.

Social Media Marketing

An online community for jute products should be formed in social networking sites and jute products should be promoted through those forums. National Jute Boards Website should be linked with the online community

Long term marketing interventions

Consumer marketing campaign – generic promotion of jute

Marketing efforts should be made in the long term to reposition jute as the best eco-friendly fibre alternative. For this a comprehensive consumer awareness programme should be developed involving generic promotion of Jute amongst the consumers.

Brand India for Jute

India needs to actively work towards repositioning itself as the best supplier of jute products in terms of quality, variety, service levels amongst the buyers.
For this "Brand India" needs to be established by developing a comprehensive trade marketing campaign promoting Indian jute products.

Other Interventions

Negotiations at Government level

India needs to negotiate at government level to reduce import duties in countries like Brazil, Argentina, Syria, Kenya, Ghana, South Africa, Egypt etc. Also negotiations need to be undertaken to remove anti dumping duties on specific jute products in Brazil.

Infrastructure development

India also needs to improve the logistics infrastructure like roads and port infrastructure, in order to be competitive and reduce various logistic hassles faced by suppliers and buyers.
NJB has already undertaken steps to address the following recommendations:
Formation of PPP based "export body" for JDPs under NJB
Product standardization
Formation of PPP based "export body" for JDPs under NJB
Organize Stake holder Education Program
Open Marketing / liaison offices in key locations
Open warehouse for JDPs at select markets
Develop Online information portal
Developing brand India for Jute products
Promotional activities like organizing road shows, workshops, trade fair participation